Let the warm light of the Lamp collection lead you home. Buri woven over a light steel frame in a linear pattern creates a strong contrast against a handmade paper diffuser.
Handcrafted with intricacy and high-level of detail. It is a perfect addition to any home with either modern and contemporary themed interior or Bohemian feel aesthetics.
Features
Purpose: Great decorative accessory for your lamp
Hand-crafted with high level of detail and great knotting techniques
Material: Stainless Steel, Oak wood, wicker rattan.
Color can be customized.
E-27 / E-26 lamp-holder.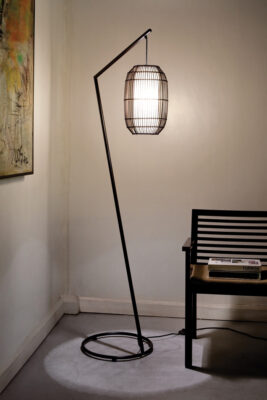 Considering the fragile of shipping,bulb is not included.( Advice:Energy-saving LED bulbs, incandescent bulb, that recommended max light bulb power: ≤ 60W.)
Shipping
Our lamps are packed sent from Vietnam via tracked airmail which should reach you in around 12-21 days standard airmail (US, UK, EU, AUS, ASIA), or 5-7 days via Express.